waits impatiently for the rest of the boxing au
Anonymous
Me too buddy, me too.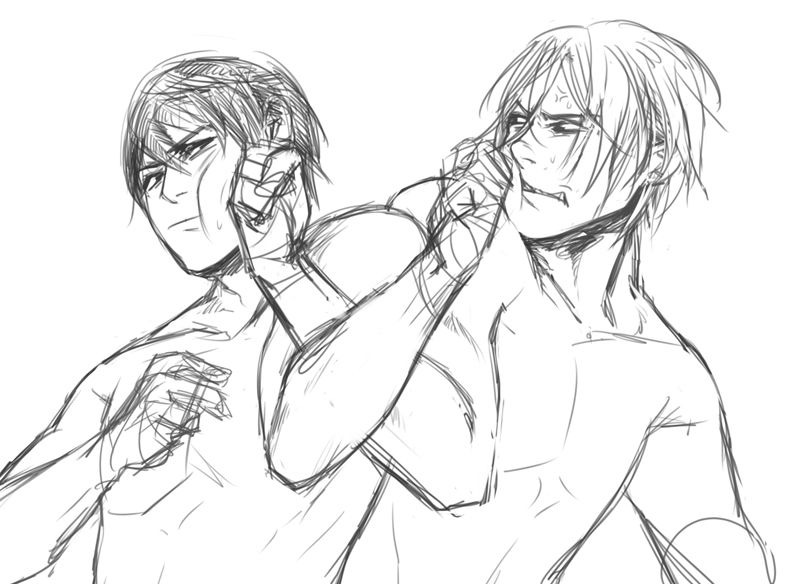 Get to know me! Personality Types
Reblog with your Personality types bolded, for your own reference, or for your followers to get to know you better! Add some others if you know any (such as Hogwarts houses: not a typical personality test, but they give other people insight into what you're like!) Ones with free online tests are linked.

Name: Yoon

Zodiac: Aries, Taurus, Gemini, Cancer, Leo, Virgo, Libra, Scorpio, Sagittarius, Capricorn, Aquarius, Pisces.

Myers-Briggs [x]: ISTJ, ISFJ, INFJ, INTJ, ISTP, ISFP, INFP, INTP, ESTP, ESFP, ENFP, ENFJ, ESFJ, ESTJ, ESFJ, ENFJ, ENTJ.

The Four Temperaments [x]: Melancholic, Phlegmatic, Choleric, Sanguine.

Enneagram [x]: Type 1, Type 2, Type 3, Type 4, Type 5, Type 6, Type 7, Type 8, Type 9.

Hogwarts House [x]: Hufflepuff, Gryffindor, Slytherin, Ravenclaw.
(Source: jethrocane)
Work in Progress: Boxing(?) AU
Capt'n Mako (◡‿◡✿)
Work in Progress: Boxing(?) AU
3 more to sketch out!! 。゜(`Д´)゜。
PAYBACK DOODLE! Tsundere Sharkboy for Ana. u v u /
I'm sorry colours are a butt for me right now with my bung monitor grrr
Yong Soo notices over the years.
All he ever saw and wanted was right before his eyes. He was always aware of this as he chased after those slender set of crimson clad shoulders.
Yong Soo remembers he was always faced with a turned back, walking, running, fleeing away from him. Nonchalantly, foolishly he thought he had only to grow stronger, taller and faster to catch up to his ever constant.
Behind the smiles he is frustrated. The only thing he wants is this boy, he's still too young to understand what this want is just that he does for all the things he is certain. He wants him; he wants to love him, wants to hang smiles on his cheeks, wants to be there when his eyes would cloud over with grief, wants to hold his heart in his to warm, wants to protect him from any harm that dares dash upon him. He wants so much he aches.
He learns with passing of time and with it as maturity seeps in, it's not what he wants that matters. Yong Soo halts his chase. Then he is made to evaluate.
What does he want? What does Yao want?
It finally dawns on him as he stares after the back he's tailed throughout his life diminish—he doesn't know what Yao wants, only what he doesn't.
And Yao doesn't want him.
Thomas & Terry, the mighty and powerful F★R★A★T★S
Gangnimals is a pretty rad group and I couldn't help myself-
Ramsfield, a Merino ram. Works as a tailor but possesses zero fashion sense creative flair and requires directions from somebuddy who does. Caring but stern and sullen most of the all of the times. Grows out his hair for Christmas to be Santa for the kiddies but denies it, claiming the primary reason is to keep warm during the winters, duh. Then shears it all off to knit horrible sweaters. \o/
This was also some sort of an attempt at:
Older men

Bulky/muscled physique

Body hair