Posts tagged other's art
Birthday gift late T_T SORRY FOR THE CRAPPINESS OF THIS T_T

For Yoon and Rina <3
Uhuhuuu Aure I keep reiterating this but YOUR STYLE ; U ; traditional really complements it ahhh<33
Thank you dear sweet Pompom I always miss you with this awkward timezone business but I enjoy our times when we do get to be ridiculous together hehe. Hope you get better soon and that things are going smoothly! THANK YOU AGAIN AUREKJGKDFJG////
For Yoon. Happy birthday you lucky girl. Sorry for being slightly late, but I swear that it should still be the tenth somewhere in the world c":

Thanks for being like my BFF on tumblr, listening to me rant about nothing whatsoever oh gurl you are the best why has my teenage angst not gotten to you yet ((tableflip/ Oh boy I happened to find some of our old conversations and it's a wonder why I haven't died of embarrassment yet. KEEP THE SPIRIT UP don't let all those silly assignments get to you etc, you can do it I have faith in you -shot-

Anyways I've taken the liberty of drawomg Lucas, I tried to draw him with a serious expression lol but he doesn't look right with anything beyond a happy-go-lucky face :c

tl;dr

HAPPY BIRTHDAY!
at first I was like WHO THE HELL BE THIS at your note but then I was all EEEH WHAT THE HELL SOB YOU ARE BUT A BOWL OF UNDER AGED SUGAR CUBES AND SUNSHINES AIKI. And here I am all fermenting and gross ahaa you're too sweet/////
FKJKDJG thank youuuu you think too highly of me omg I wish you the all the strength and luck for this important last-boss stage that is ~*university*~! Dear bro, best of luck for the both of us mate gaaah ffffff thanks again ; 7 ; <33
HAPPY BIRTHDAY YOOOOOON omigawd you're twenty-three now I'M SO SORRY FOR BREAKING YOUR HEART ON YOUR BIRTHDAY BUT thiswasjustI'msorry. Q DQ;;;;

BUT YEAH happy birthday you are so super awesome and you're just really really nice and always putting up with me. Q DQ;;; Talking with you always makes me super happy SOB YOU'RE JUST WAY TOO NICE TO ME. ;;;;;;;;;v;;;;;;;;;;

S-so here is something for you I HOPE YOU LIKE IT even though it's super fail SOB. I know you've been having a rough time of it lately what with all the school and job-hunting but I hope your day goes wonderfully. ;;v;; Happy Birfday Yoonppi iluuuuu. ;;;;v;;;; ♥♥♥♥♥♥♥

And apologies to Chiyoppi and Zetal and errone else whose bbs I stole and butchered I'M SORRY. OTL;;;

A-AHHH OH YEAH YOON YOU WANTED A VOICE— I'll record one later when it's not the middle of the night and my roommate is asleep okay. ;;v;;

OH YEAH THIS IS NOT CANON. NOTNOTNOTNOTNOT my heart would break if it were ohgawd—
GDI SAKU I NEARLY QUIT AND WALKED OUT ALREADY 16 SEC IN. You always manage to form out our 'discussions' into visuals and just when I think it can't hurt me anymore—
You are so wonderful. I can't even form a sentence let alone a thought just— have my inexplicable emotions flung at you at every which angle aaah thank you Saku and you're always a pleasure to uhh… please? Yeah♥ my dear sweet, this warms my heart how you care for such baffoon♥♥♥ Iloveyoumuchly ;//u//;
Do wait for a proper spazz, I'm a lamer and went and got sick on my birthday /sniffles huehuehuefjgdfg
fklgjdklfjg you should know firsthand how niceless I am tho whut. Now, where is that breathless 'unnieee' audio WHERE IS IT /slams table
♥
I managed to steal some time today for drawing!

Here, have some Lucas! *throws Lucas at you*

bigger version or he's thinking about this

I'm sorry for using this horrible brush on your baby. When I realised that it doesn't look good it was already done.

khm khm I just wanted to tell you how grateful I am that I met you, and I can't believe you wanted to RP with me and put up with my ever so late responses. 

Lucas belongs to lovely Yoon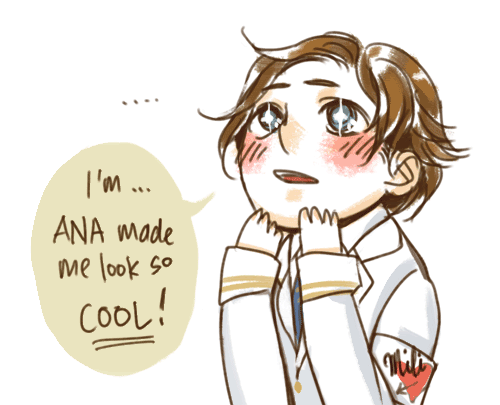 and then my baby ups and leaves for a new owner—
OMHGDKFL ANAAAA BABY HUSH SHHHH ohmygad you can't beat me at throwing drawings at each other and at a time when I can't even draw you anything nice back SOB;; I can't begin to tell you how much I love your style/anatomy WAHH YOU MAKE A MAN OUT OF ANY BOYYY
I too, thank you so much for being my test subject pretty much the first person to try out this RP business with lkgjdflkg I-I'm glad we RP at around the same speed actually ahaha /tear omg you— //////
I'M SORRY YOON FOR KILLING LUCAS SOB
a quick little sketch of Oliver and lucas's first real meeting kasjdkla

didImentionhowmuchIhatetodrawuniforms 
OHGOSH OHGOSHOOOOHHHGOSH EMI— YOU KILL SO GOOD—and, LMAO GOOD FOR YOU, on remembering my name. Correctlyflgkdf
SOB brooo ah, I really adore your sketches sorry I took it and-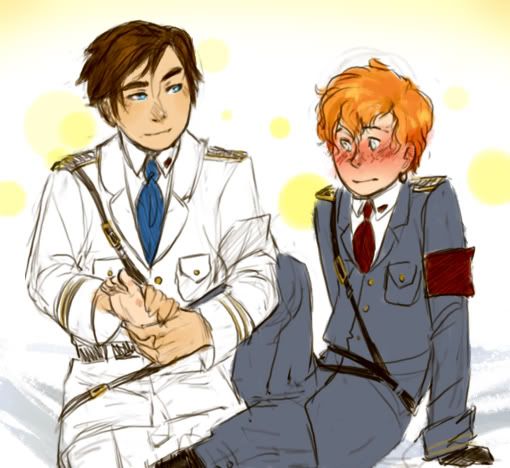 I'LL DRAW A PROPER ONE SOON TO MATCH YOUR AWESOME, OR ATTEMPT TO LMAOO omg this lifted my dumb mood so hard ; 7 ; AHH THANK YOU PRECIOUS EMIIIGUAHHUtherearesomanythingsImustfeelyouforjustyouwait /crawls back to drawing stupid as vegetables huehueuhhg
I also enjoy how out of context this is- what context GUFFAWfgjkdjfghdf
milizia: WINTER GAMES by =darkywarky

I-It's done—- It's really done /WEEPS FOREVER
HOYL BALLS WHAT THE JACKDIRTFLIPPERWAGON- WHAT AM I SEEING WHAT ARE YOUDOING ARE THESE TEARS ENOUGH FOR YOU GDI MINGDICS
Some defense and medics. A few people'll be in winter outfits for this murderous pic whereas others'll be in default uniform for reasons that will be obvious when the full pic is done yeah 6 7 9
…this would be the perfect demonstration to use CRAUGH. /crying and laughing/ FJGKDJFG I'M SO JOYED YET— GDI JACKET THE SPEED AT WHICH YOU PERFORM THESE QUALITY, YOU JUST RAN OVER MY SOUL YOU HOT MESS- /sobb <3<3<3
Ooh look at this ugly wip u A u

I'm so fired up to do a poster this Neapolitan Trio since they're going to have a debut on Milizia Winter game Minievent— for Hockey. E v E Well yoon you can't object, just submit to the temptation dohohoho. Btw don't expect them to work as a good teammate, lots of tension and cynical remarks will likely happens to get each other down—but they'll transfer those feelings through beating their opponent buhuhu.

Sorry guys, expect me to butcher your character a lot y____y
…what am I missing in my absence. LFDJGDJGFKG CHIYO THIS IS FUQING FUQTASTIC IT'S HYPING ME UP NICE AND PROPER— and duncha know, these are the Neapolitans. Last I checked, they are optimal in sub-zero conditions-
/DELICIOUS FROZEN FURY/
Artillery, Combat and Defense tag team D TEAM… BRING ON THE HURT
I have a whole stockpile of cracked up ideas from when I was high on cold meds HERE'S ONE OF 'EM. Poor Lucas was probably shellshocked into oblivion when his little girl announced that she wanted to join Combat "JUST LIKE ONTE MERCY" LOL WHAT IS MY BRAIN—

Oh yes, the Bad "D" Trio second generation sparkles.

Because Onte Mercy made it so.

Yes.

…I should probably go to sleep now.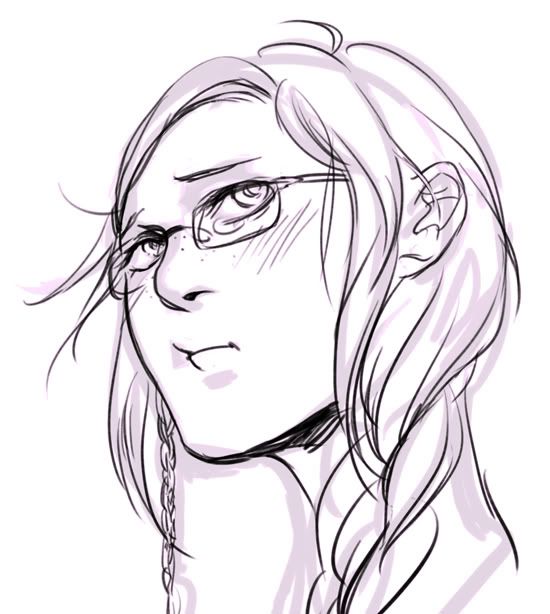 AU!Daddy Lucas: ………….Defense… /sulks silently but surreptitiously heads out to acquire competent quality Combat gears/
fkgjdkflgjkldfjgkg SAKU STOP IT GO TO SLEEP I need to be working
SOB BAD D TRIO THE 2ND'S- wait, …sparkly. What are they, shiny pokemon generation?